Technology
Top Stories
Airfiber: Jio AirFiber vs Airtel Xstream AirFiber 5G wireless routers: How the two differ on price, plans, speed and more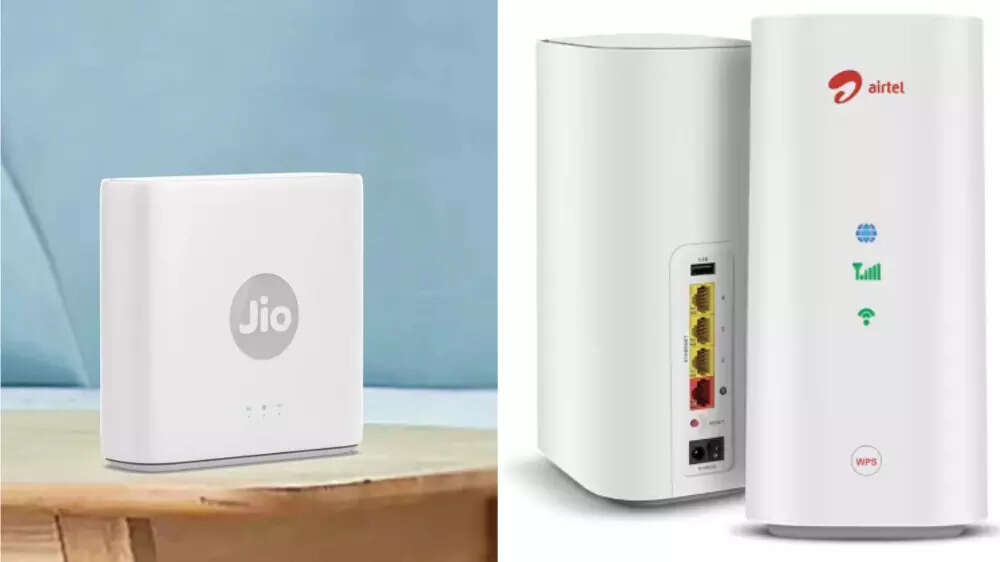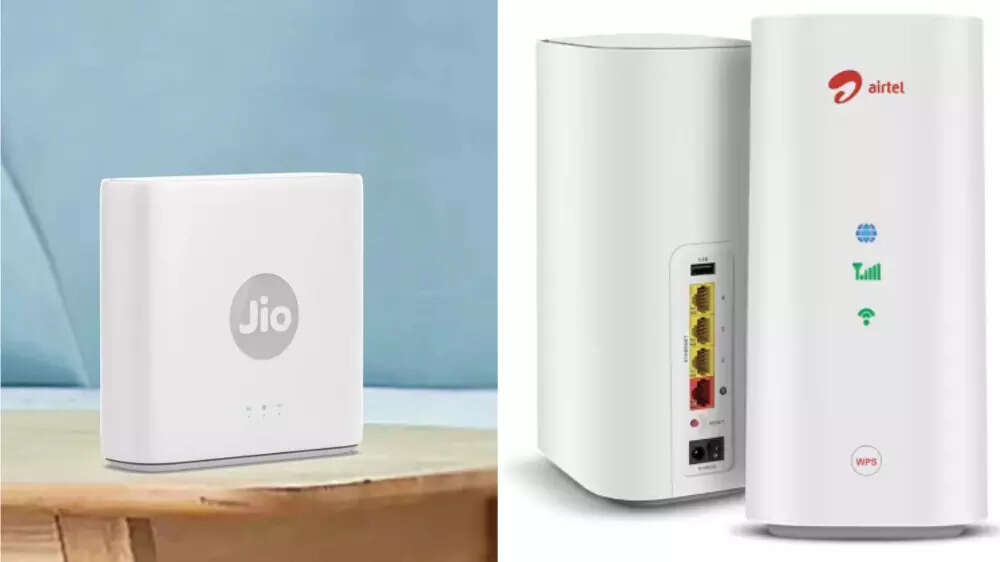 Reliance chairman
Mukesh Ambani
announced Jio AirFiber Services at the 46th Annual General Meeting of the company held last month. The telecom giant has now launched it fixed wireless access(FWA) solution that is powered by the company's True 5G service. FWA is a type of 5G or 4G LTE wireless technology that provides fixed broadband access using radio frequencies instead of cables. FWA can be used to connect homes and businesses to the Internet.
latest live This service will compete with Airtel's FWA solution Airtel Xstream Airfiber Which was launched in August. Just like Airtel's plug-and-play 5G router, Jio airfibre It will also overcome the challenges of last-mile connectivity and provide an enhanced experience for TV as well as broadband users. Here is a comparison between the fixed-wireless services of both Jio and Airtel.
Jio AirFiber Vs
Airtel
Xstream AirFiber: Availability
JioAirFiber will initially be available in eight cities, which include – Ahmedabad, Bengaluru, Chennai, Delhi, Hyderabad, Kolkata, Mumbai and Pune. Meanwhile, Xstream AirFiber service is currently available for Airtel 5G users in Delhi and Mumbai. The company plans to launch it in more cities in the coming months.
Jio AirFiber vs Airtel Xstream AirFiber: Plans and speeds
Airtel Xstream AirFiber plans start at Rs 799. This plan offers speeds of up to 100Mbps and can be availed for a period of six months with a one-time refundable security deposit of Rs 2,500. Airtel Xstream AirFiber does not require any outside help for installation. Subscribers can install the device and start using it with the Xstream AirFiber app.
On the other hand, Jio AirFiber plans start at Rs 599 which can be availed for six or 12 months. With this plan the company is offering speeds up to 30 Mbps. To ensure ultra-fast connections, an outdoor unit will be installed on the user's terrace/terrace or outside their home. This installation service is Rs. is chargeable. A discount of Rs 1,000 will be given if the customer opts for the annual plan. Users can also avail credit/debit card-based EMIs to make monthly payments and still get the benefits of the annual plan.
Apart from this, Jio will also offer two other plans for AirFiber that will provide 100Mbps speed and are priced at Rs 899 and Rs 1199. All these plans will offer 550+ digital channels, while both the higher priced plans will offer 14 apps and more. Subscription to Netflix, Amazon Prime and JioCinema Premium.
Jio has launched plans for this also airfibre max 300Mbps, 500Mbps and 1000Mbps speeds are available for Rs 1,499, Rs 2,499 and Rs 3,999 respectively. All these plans will offer all the services that will be offered with both the higher-priced tiers of Jio AirFiber.
Jio AirFiber vs Airtel Xstream AirFiber: How to set up and connect
Users can get the Airtel Xstream AirFiber device from any Airtel store in the available cities. It is a plug-and-play device that can be self-installed with the help of the Xstream AirFiber app.
To get Jio AirFiber, users need to give Jio a missed call to 60008-60008 to initiate the booking on WhatsApp. Users can also visit www.jio.com or nearest jio store To get the device. Then, customers need to register for Jio AirFiber services and as soon as the services are ready in their building, the company will contact them and connect their home.

#Airfiber #Jio #AirFiber #Airtel #Xstream #AirFiber #wireless #routers #differ #price #plans #speed